Crispy chicken thighs with oven-baked vegetables
FOR 4 PORTIONS
For the marinade:
4 chicken thighs
1 clove of garlic
1/2 lemon
3 tbsp neutral oil e.g. rapeseed oil
1 tsp mustard
1 tbsp honey
1 tbsp soy sauce
1 tbsp sweet paprika
1 tbsp paprika
1 tsp pepper
(if necessary chili pepper, who likes it sharper)
For the oven vegetables:
1 kg of firming potatoes
250 g of carrots
1 zucchini
1 large onion
3 rosemary branches
4-5 sage leaves
1/2 lemon
4 tbsp neutral oil e.g. rapeseed oil
sea-salt
pepper from the grinder
1 tsp paprika
An oven dish that is guaranteed to taste everyone in the family. That's how it has to be: the chicken thighs are crunchy on the outside and juicy in the inside! The potato wedges also crisp with a hint of lemon. The preparation is so easy and can be prepared in large quantities for birthdays or family celebrations. Enjoy your crunchy chicken thighs with oven vegetables.
Marinade for the chicken thighs:
Rinse the chicken thighs cold, dab lightly dry and prick several times with a roulade needle, so that the marinade can better move in. Peel off the garlic clove and cut into very fine pieces. Squeeze out half a lemon.
Mix the lemon juice with the oil, mustard, honey, soy sauce, garlic and the spices and put them together with the chicken thighs in a large plastic bag (freezer bag), close well and turn several times so that the marinade spreads well and encloses the meat. If you do not have a plastic bag on hand, you can also marinate the chicken thighs in a bowl.
Leave the chicken thighs in the marinade in the fridge for at least 3 hours.
Oven vegetables – Crispy potatoes, carrots and zucchini:
Preparing the vegetables. I used small mini carrots with shell for this recipe. However, you can also use the normal large carrots and cut them into 1 cm thick pieces. Clean and slice the zucchini. Peel and quarter the potatoes. Peel and cut the onion or cut into coarse pieces. Mix all the vegetables in a bowl with lemon juice and oil and season with the spices, then spread with the marinated chicken thighs on the baking sheet.
Bake it at 180 ° (in the preheated oven) about 60 minutes. From time to time douse with your own frying fat.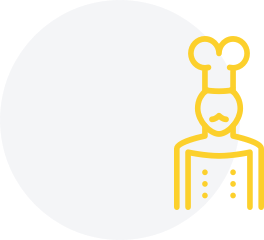 Tip/Info
Predominantly hard-boiling potatoes are best suited for crispy baked potatoes.
I like to put a thyme and sprigs of rosemary on the potatoes or grate the baking sheet with a garlic clove. This gives them a great taste.
In addition, I like to use rapeseed oil because it can withstand higher temperatures, is healthy and is rich in unsaturated fatty acids.