Lemon chicken with fennel greens
FÜR 4 PORTIONS

4 chicken breasts
1 onion
1 fennel
5 stems of fresh thyme
2 organic lemons
350 ml of chicken broth
2 tbsp of mustard
1 clove of garlic
1 tsp turmeric
Salt, Pepper
200 ml of olive oil
1 tsp olive oil for searing
Lemon chicken with fennel greens is a quick-cooked, light meal for spring or summer. If you do not serve a carbohydrate side dish, it's also a great low carb meal.
Peel the onions and garlic and finely dice. Wash chicken breasts and pat dry. Squeeze out a lemon and slice the other lemon.
Remove the green shoots and the stem of the fennel tuber and cut it in quarters. Mix the thyme, garlic, mustard, olive oil, the juice of the lemon and the spices (salt / pepper / turmeric). Put the chicken and the mixture in a bowl and massage the chicken breasts with the spice mixture. Then marinate in the fridge for about 20-30 minutes.
Preheat the oven to 200 degC.
In an oven-proof pan, first heat olive oil on the stove. Fry the onions until glassy and take them out again for a short time. Then fry the chicken breasts with the marinade on each side for 3-4 minutes until crispy.
Return the onions and deglaze everything with the chicken broth, put the lemon slices and the fennel into the chicken breasts and then put the pan into the preheated oven. Cook the lemon chicken gently for about 20-30 minutes.
Fits to noodles or rice.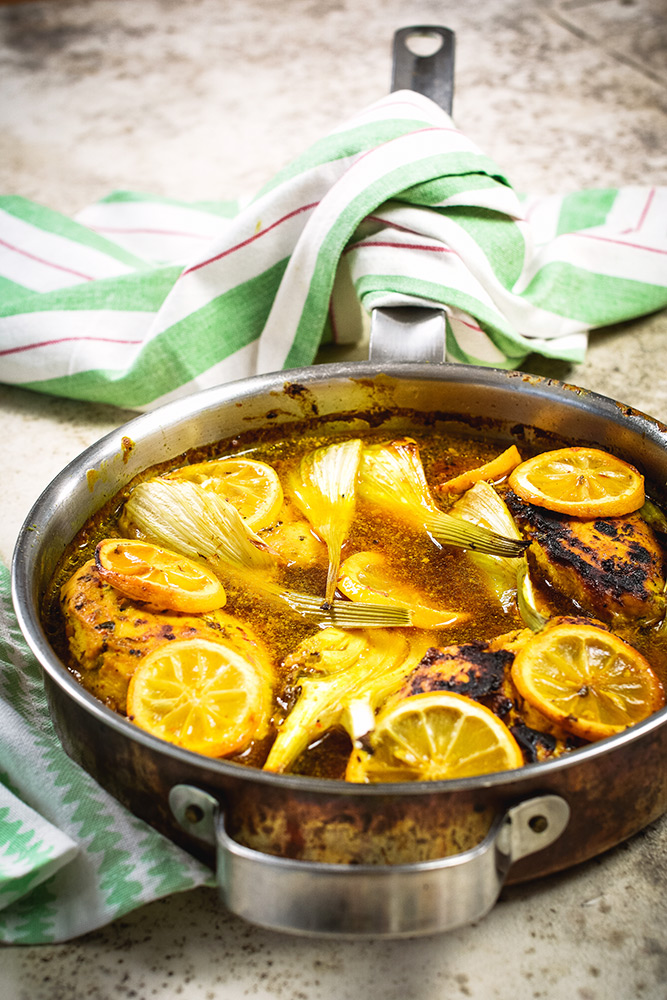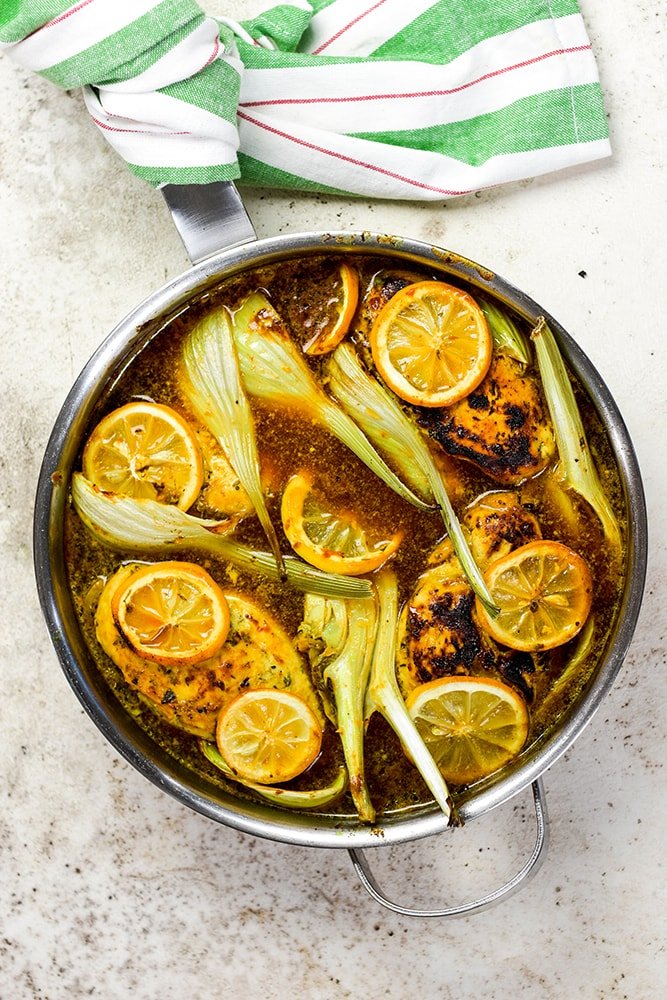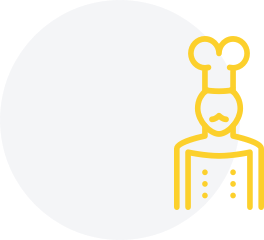 Tip/Info
Did you know that fennel has almost twice as much vitamin C as oranges? The tasty tuber is rich in vitamins A, K, E, folic acid and also minerals like potassium, calcium, magnesium and manganese are sufficiently contained.
Fennel also tastes especially delicious in the salad.